Hokuto's Vision
Taking on challenges with a global outlook. Japan's only comprehensive mushroom corporation.
Hokuto was founded in 1964 with the aim of conducting sales of food packaging materials. Following the Niigata Earthquake, Hokuto developed strong, crack-resistant polypropylene mushroom cultivation jars, ahead of its rivals. Since then, we have achieved rapid growth as a top mushroom producer by developing cultivation materials and machines for quality and productivity improvement, using proprietary concepts. In 1983, the Mushroom General Research Institute was founded with the aim of establishing new mushroom breed development and manufacturing technology, using biotechnology techniques. Business expanded further towards full-blown mushroom manufacturing. Now, both in name and reality, Hokuto has established a proprietary footing as Japan's only comprehensive mushroom corporation, endowed with departments covering everything from mushroom research, to manufacturing, marketing, cultivation materials, and packaging materials. With the mindset of "discovering what we can do to make our customers happy", unchanged since our establishment, we will continue to strive to be a research and development company with a global outlook.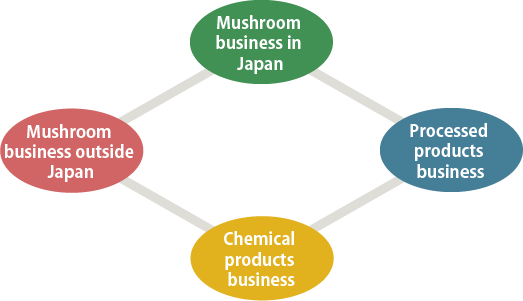 A company providing a new, healthy, and rich dietary culture to the people of the world.
Today, in our rapidly aging society, 21st-century dietary culture is also greatly transforming. Under the theme of "building a healthy dietary culture through mushrooms", we are tackling comprehensive mushroom R&D, working diligently so that tastier, healthier mushrooms can be delivered to dinner tables. We are also clarifying mushrooms' medicinal effects scientifically. R&D useful for health maintenance and promotion is also being advanced. As an industry-leading company creating our future, we utilize leading-edge biotechnology techniques and take on challenges dynamically, endeavoring to respond to society's needs.
Together, hand in hand with consumers, producers, and regional communities. A growing company, with concern for the global environment.
As a company that plays a role in providing healthy, rich dietary culture, with the "Five Satisfactions" printed in our corporate policy, we hope to be a company that grows together with the many people that support us, including of course consumers, shareholders, our many clients, and the regional communities. In order to achieve this, we are pushing forward and working together to be a company that emphasizes R&D and the establishment of a strategic vision. A company with a global outlook, concern for the environment, and in which our employees can shape the future.